Female German Shepherds
V SCH1 KKL1
Topsi vom Emkendorfer Park
Topsi Consistently produced very substantial dark pigmented correctly structured puppies with a very happy and sound temperament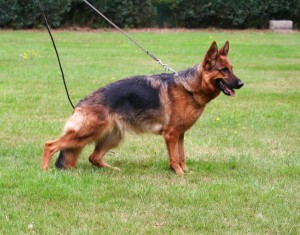 CLICK HERE to see Pedigree table for
Topsi vom Emkendorfer Park
VP4 NASS, SG1(Ontario Regionals 2013) Kiefernwald Foxy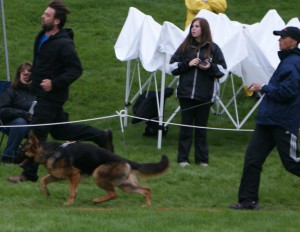 CLICK HERE to see Pedigree table for
Kiefernwald Foxy
SG3 Canada, BH AD SCH1 Carrera von Scotlynburgh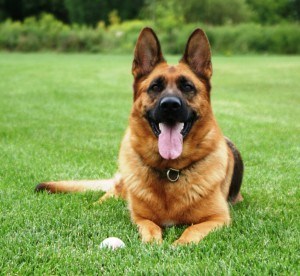 CLICK HERE to see Pedigree table for
Carrera von Scotlynburgh
This female came to our kennel at 8 weeks of age and bloomed into a very elegant looking female, clone of her mother Windy von El Tous.
Carrera's Father Rio di Casa Nobili comes from a World known Italian kennel and her famous Grandfathers are VA1 Larus vom Batu twice World Champion as well as VA3 Esko vom Danischen Hof who was #3 male in the World and well known producer .
She has an amazing personality, very friendly towards any animals, people, children, but won't hesitate to fight back if pushed too far. She is always up to anything you have to offer , ready to explore and run all day long.
Hips and elbows are cleared by OVC and OFA, DM negative
SV Judge Hans Peter Fetten gave this female a very nice critique at the Canadian Nationals 2008.
He mentioned nice movement, good top line and angulation, straight coming and going and strong head with dark eyes and good expression. We are extremely proud of this accomplishment of one of our girls.
SG-3 CANADA Carrera von Scotlynburgh
BH,AD, SCH1, OFA certified hips/elbows and DM clear
SG-1 Canada
Xsara von Godalis
BH, OFA Good hips/normal elbows, DM clear
Xsara v. Godalis is another great example of the finest german lines. She is our German import from Godalis kennel and is a female version of her famous father World Vice-Sieger VA2 2007 Quenn Loher Weg, who needs no introduction and his progeny proved themselves all over the world. Her mother line connects to Feli vom Ochsentor, who is one of the greatest female producers in the GSD history.
Xsara aka Bella was shown at the Canadian National Sieger Show 2008 and went SG1 in competitive class of 18-24 months old females. SV judge Hans Peter Fetten mentioned nice fluid movement with correct structure, good front and back angulation,firmness and dryness, deep female her very strong head and expression, good pigment, good top line, good positioning of the croup and coming and going.
She is extremely obedient in all situations ,very friendly and affectionate, has a lot of play drive and a very intence obedience.
CLICK HERE to see Pedigree table for Xsara von Godalis
Kiefernwald Drea
SG3, BH
daughter of
(SG1 Canada Xsara von Godalis and VA1 North America Xbox dei Precision )
hips and elbows OFA certified free of genetic displasia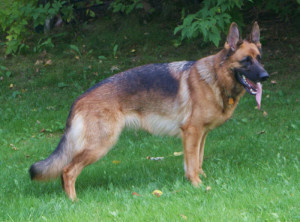 Drea is a puppy from our D-litter, very large substantial female, she was born and raised in our home, extensively socialized and trained from birth.
She has an amazing temperament, she is very outgoing, playfull and extremely curious. She wants to follow you everywhere and stick her nose into everything
you are doing ( literally ), she is also very serious about her protection work and wants to get a helper for real instead of just playing a game , she got her BH under SV judge Dieter Dust at the age of 16 months, where she showed nearly perfect obedience routine on and off leash and now is well on the way to her SCH 1 title
Drea and SV judge Rudiger Mai after taking SG3 at Ontario Regional Sieger Show June 2011
Drea protection training April 2012
VP4 Ontario under Hans Jurgen Begier SV German Judge
CLICK HERE to see Pedigree table for Kiefernwald Drea